Release Day Blitz: Dark Alpha's Demand by Donna Grant
There is no escaping a Reaper. I am an elite assassin, part of a brotherhood that only answers to Death. And when Death says your time is up, I am coming for you…
My secret is an ancient one. I exist to exact vengeance on the Fae for their wrongs per Death's orders. When I'm sent to one of the most treacherous, deceitful places on any realm – the court of the Light Queen – as a spy, things awry. Neve captured my soul with just a look from her seductive gaze. She is who I want, who I crave…who I hunger for. But someone has set out to kill her – and expose me. I'll destroy any man – human or Fae – who brings harm to her, for she is the light my soul can't risk losing…
Cael watched Talin leave the room. He'd seen firsthand what could happen to a Reaper who fell in love with a Fae. Bran had destroyed the Reapers from the inside out because of it.
"You're worried about him," Erith said, breaking into his thoughts.
Cael turned his head to her at her statement. "I worry about all my men."
"They're not Bran."
"I didn't think Bran was capable of killing us, but I was wrong."
Erith arched a black brow. "So you question your judgment?"
"You choose the Fae to be Reapers."
Erith's eyes widened before she looked at him with something akin to admiration. "So you question my judgment."
Cael squeezed his eyes shut a moment. It hadn't been a question. "You chose each of us because we were betrayed in some way that brought about our deaths. We're all fighters."
"But?"
"There is no but. It's a simple fact. We fight for justice, for you, and for the continuation of things as they should be."
She tilted her head to the side and regarded him, her black locks moving with her. "You've always had a higher sense of right and wrong than most. You aren't hasty in your decisions, and you weigh all your options. It's why you're a leader. You should've been leader of the first group."
"I was the newest. Theo did a good job."
"He wasn't you."
Dark Alpha's Demand Trailer
Reaper #1
Available for purchase at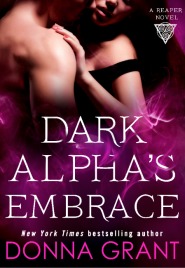 Reaper #2
Available for purchase at
Donna Grant is the New York Timesand USA Today bestselling author of the sizzling Dark King series featuring dragons, immortal Highlanders, and the Fae.
She was born and raised in Texas but loves to travel. Her adventures have taken her throughout the United States as well as to Jamaica, Mexico, and Scotland. Growing up on the Texas/Louisiana border, Donna's Cajun side of the family taught her the "spicy" side of life while her Texas roots gave her two-steppin' and bareback riding.
Despite deadlines and voracious reading, Donna still manages to keep up with her two children, four cats, and one long haired Chihuahua.