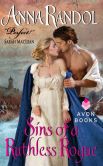 www.annarandol.com
Today is the first day of the
Avon Affair
. For the next 14 days we will bring you reviews from past and present
Avon
authors. I'm so happy to be a part of this group. I will try to post everyday. First for me is
Sins of a Ruthless Rogue by Anna Randol.
I have to say I don't read as many historical's any more but I do have a few authors that are must reads,
Ann Randol
is one of those. I very much enjoy her books. She writes a great plot, with the type of characters you can relate to. I love reading her books. This is the second book in the
Sinners Trio
, the first is
Sins of a Virgin
.
Sins of a Ruthless Rogue
is about
Clayton Campbell & Olivia Swift.
They both were in love when they were very young.
Clayton
tells
Olivia
a secret that she tells her father causing him to turn
Clayton
in to the authorities for something he didn't do. He will do all he can to get back a
Olivia
for this, or will he? This is a must read book. I know you guys are going to enjoy it.
This is out March 26th
Happy reading!
This review is being presented today as a part of the Avon Addicts event The Avon Affair. The Avon Affair is running from March 17th to 30th and will include reviews on the following blogs: