Wolf With Benefits by Shelly Laurenston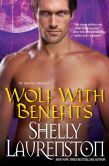 www.shellylaurenston.com
I was lucky enough to receive this as a ARC. You most likely heard me screaming when I did. :) As a fan of
Shelly Laurenston
all I can tell you is that you've never read another author like her before. She has a way of putting humor and violence together and making a great story. Whenever I recommend her books to someone, I always tell them that they should remember that the people in the books are animals first, humans second. At times they act very much the animal. In
Wolf With Benefits
you meet
Toni Jean-Louis Parker
. She has spent her life helping her parents raise their nine children and has gotten very good at making schedules and keeping everyone in check. Life is good until she meets a wolf named
Ricky Lee Reed
.
Ricky Lee
reminds her of all the things she missing in life. Next thing she knows she's seeing the wolf and finds herself with a new job that she's not even sure she wants. You really need to try this book when it comes out. You have enough time to start reading all the books in the
Pride
series, I promise you'll love them.
Wolf With Benefits
is out on
March 26th from
Kensington Publishing
.
Happy reading!