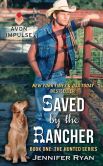 This is about
Jack Turner
and
Jenna Caldwell Merrick
.
Jack
is ex-military and now owns his family ranch.
Jenna
is divorced with a obsessive ex-husband, she creates websites.
Jenna
is on the run from her ex, after being beat by him again she asks her lawyer to help her find a safe place and he sends her to
Jack
. I have have to tell you when I started reading this I thought I was reading a book from the 80's. It just went overboard in making its point. No one person could have taken the beatings that she did. Now, saying that I have to confess that I couldn't put the book down. I was totally sucked into the story. If you read this and feel the same way about the feel of the book, don't give up. By the end of the book I still had some issues but...don't laugh...I will buy her next one. :) I would rather read a book that I love and hate at the same time, then a book that's only so-so. Give it a try, you might be surprised. It's out
February 26th
.
Happy reading!