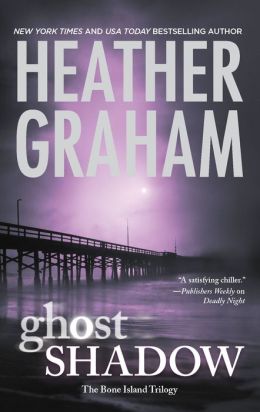 If you enjoy romantic suspense with a little paranormal thrown in, you'll love
Heather Graham
. She has a way of writing very busy stories, with many characters, but have you never getting lost in the story. Something I think shows a true writer. In
Ghost
Shadow
, the first in the
Bone Island trilogy
you meet
Katie O'Hara
and
David Beckett
. They are the main characters, but there is many secondary characters that help you to be drawn into the story. Lets not forget there is also many ghosts, in fact, one of the ghost who's almost a main character is
Bartholomew
. He really helped make the story what it is.
Katie O'Hara
plans to buy a museum, that is until
David Beckett
shows up and stops her plans. You'd think that would cause her to hate him, but instead it pushes her into helping him solve the murder of his ex-girlfriend, who's body was found years earlier at the family museum. There are many twist and turns in the story, and at times you think the killer is this person or that, but
Graham
keeps you guessing till the end.
Happy reading!