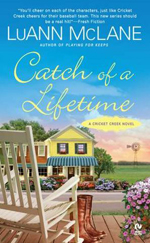 www.luannmclane.com
I had a wonderful time visiting
Cricket Creek
again. It seems like such a cute town to live in.
Catch of a Lifetime
is book 2 in the
Cricket Creek
series. It makes for a great Sunday afternoon read. The 2nd book in the series is about
Jessica Robinson
who's a chef who runs the kitchen of her aunts diner, and
Ty McKenna
who's a former baseball player turned coach. Both
Jessica
and
Ty
have things in their past that have shaped their lives now. Some of it was good and some not so. It's was a enjoyable reading about how these two become a couple. I think you'll enjoy reading this series.
Happy
reading!