Prey by Linda Howard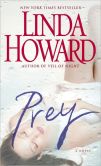 authors.simonandschuster.com
It's been a while since I've read a book by
Linda Howard
. Part of the reason is that I haven't been into romantic suspense in the last few years. But I was feeling it, so I picked it up. Once I started it I couldn't put it down. The characters are the type you'd like to know. It starts with
Angie Powell
putting her fathers wilderness business up for sale because she know longer has the clients she once had. They are all with
Dare Callahan
(Don't you love the name?) These two are mad at each other without really knowing why.
Angie
takes two clients out to the wilderness, with
Dare
following her as a favor to
Angie's
fathers best friend. What should have been a simple hunting trip turned into terror and pain. With
Dare's
help she gets to safety. Oh, did I mention the bear? What until you read about him.
Howard
gave him thoughts! Loved it! I really enjoyed
Prey
and now want to read her next book.
Happy reading!