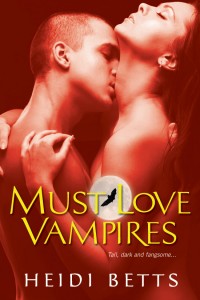 heidibetts.com
Vampnapped
In
Vampnapped
reporter
Charlotte "Chuck" Lamoreaux
finds herself kidnapped by
Sebastian Raines
who thinks she's her twin sister
Chloe
. He soon finds out his mistake and it's not long before he's admitting that he's a vampire. The story is funny, cute and a easy read.
Married...With Fangs
In
Married...With Fangs
you have Nightclub dancer
Chloe Lamoreaux
and
Aidan Raines
. These two care about each other but
Chloe
worries that he'll figure out her secrets and no longer care, she also is worried about her sister, who has disappeared. Of course
Aidan
has his own secrets, the major being he's a vampire.
Betts
writes very light, funny paranormal's. She's a good author to get your feet wet with.
Happy reading!